Personalized Orthodontic Treatment
for a Straighter, Healthier Smile
A straight smile plays an important role in your oral health and self-esteem. Our office in Leesburg, VA, has several options available for patients who wish to undergo orthodontic treatment. Our specialty-trained orthodontist, Dr. Sooyeon Ahn, can help you decide between traditional braces, tooth-colored brackets, and Invisalign®. To ensure that every patient has access to a healthier, straighter smile, we also offer flexible financing options.
Why Pursue a Straighter Smile?
There are several risks which accompany a crooked, crowded, or misaligned smile, including:
Cavities: Crooked or crowded teeth make brushing and flossing more difficult, increasing the risk of cavities.
Gum disease: Poor oral hygiene can leave your gums susceptible to disease-causing bacteria.
Difficulty eating: Severe misalignment can make it difficult to chew your food properly.
Temporomandibular joint (TMJ) disorder: Malocclusion can affect the alignment of your jaws, causing discomfort and other symptoms.
Misalignment can also affect your self-confidence, causing you to cover your smile when you talk or laugh. Many patients who have undergone orthodontic treatment have attributed improved confidence to straighter teeth resulting from braces or Invisalign.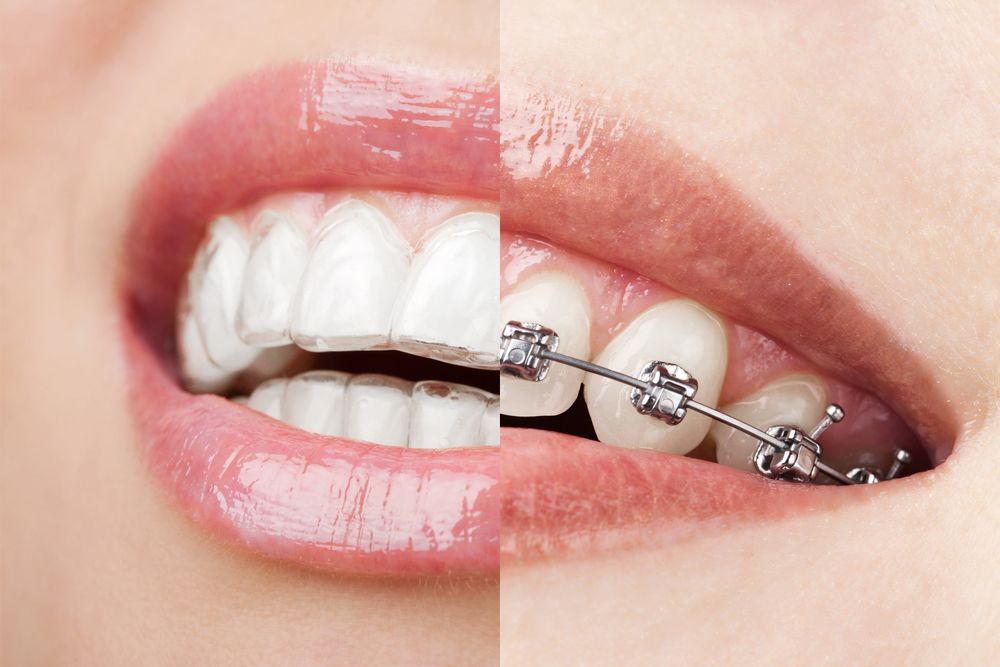 Your Treatment Options
During your orthodontic consultation, Dr. Ahn will evaluate your smile and bite, take pictures of your teeth and facial structures, and discuss your concerns and expectations to decide which type of orthodontic treatment is right for you. We offer a range of orthodontic services at our office, allowing Dr. Ahn to find the optimal option for your needs and goals.
Early Orthodontic Treatment
According to the American Association of Orthodontists, pediatric patients should receive an evaluation from an orthodontic specialist before they are seven years old. Early orthodontic treatment, also known as Phase One treatment, is a specific method used for our younger patients. Our doctors can prescribe early orthodontic treatment during your child's regular checkup. This can help:
Establish healthy jaw growth
Correct protruding teeth
Lower risk of damage to prominent front teeth
Shorten treatment with braces in the future
Undergoing early treatment can help guide the teeth into a more favorable position and prevent issues when your child is older.
Metal Braces
Traditional metal braces are a powerful treatment available to most patients. Metal braces move the teeth using brackets, bands, and wires to help you achieve a straighter, more symmetrical smile.
Ceramic Braces
For patients who are worried about the aesthetics of traditional metal braces, we can also provide tooth-colored brackets. Ceramic braces are stain-resistant and less noticeable than metal brackets.
Invisalign
Many teens and adults choose Invisalign clear aligners due to their comfort and discreet appearance. Since patients must wear the trays for 22 hours each day, treatment requires a high level of commitment to achieve the desired effects.
Retainers
In order to maintain the results of your orthodontic treatment, our office can also create a custom retainer for you. These appliances can be removable or permanent.
Why Choose Our Practice?
Dr. Ahn is a specialist in orthodontics. She is board-certified by the American Association of Orthodontics and engages in continuing education courses to provide her patients with the most advanced, effective care.
With various insurance, financing, and payment plan options available, orthodontic treatment is an option for virtually every patient at our office.
Although you will receive orthodontic treatment from a specialist, our prices at Smile Designer of Leesburg are just as affordable as those of a general dentist. To help all patients achieve the smile they want, our practice also offers flexible financing options, which most of our orthodontic patients choose to take advantage of. In addition to in-house monthly payment plans, we also work with CareCredit®.
Straighten Your Smile
With various insurance, financing, and payment plan options available, orthodontic treatment is an option for virtually everyone at our office. To schedule an orthodontic evaluation for yourself or your child, call us at (703) 777-1162 or contact us online.